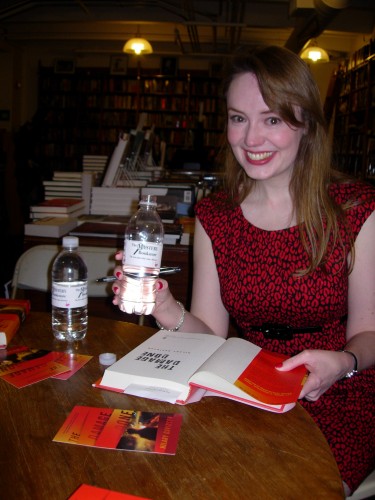 I'm back from my book tour for THE DAMAGE DONE! The past couple of months have been a whirlwind. My debut novel came out on September 28th, and I had a party that night in New York City. Since then, I've attended two conferences (Bouchercon and Noircon), had bookstore and/or library events in a dozen cities (including Houston, Los Angeles, Scottsdale, Pittsburgh and Toronto), and had six events in New York City alone. Also, I was writing my second novel, THE NEXT ONE TO FALL, which will be published by Forge in fall 2011 (I turned the manuscript in to my editor last Wednesday). There's been a lot of work on the publicity front, too. This past weekend, I was honored to discover that the Los Angeles Times featured THE DAMAGE DONE as one the the books the paper is recommending for the holidays. Reviews of the book have been wonderful. There are also a number of interviews with me (many include coverage of the Gluten-Free Guidebook as well).
As tiring as it is to be on the road so much, there was a lot that was wonderful about it, too. I've had the chance to collect information about a lot of great restaurants, bakeries and shops, and I'll be writing about those over the next few weeks. I also had the chance to meet some Gluten-Free Guidebook readers, and for that I'm incredibly grateful. Some observations from the last few weeks:
Phoenix/Scottsdale Is a Great Destination for Gluten-Free Foodies: I was expecting to find terrific Mexican cooking here (and I found it), but I didn't realize just how diverse and sophisticated the dining scene is in Phoenix and Scottsdale. One tip-off: Phoenix Magazine, which had its "Best New Restaurants" issue on newsstands while I was in town; its list of hotspots included the Pomegranate Café ([address] 4025 E. Chandler Blvd., Suite 28, Phoenix [tel] 480-706-7472 [web] www.pomegranatecafe.com), which offers vegetarian, vegan, and raw dishes. Not everything there is gluten-free (there are spelt tortillas, for example), but most of it is, including a decadent cheesecake.
People Are Very Kind: I was surprised, over and over again, by how thoughtful people were. Just after I arrived in San Francisco, a writer friend (Joshua Corin, author of WHILE GALILEO PREYS) sent me a message about a gluten-free bakery he'd found in the Ferry Building (the wonderful Mariposa Baking Co., which I'll have more to say about later). Before I went to Los Angeles, another writer friend (Rebecca Cantrell, author of A NIGHT OF LONG KNIVES) recommended a restaurant across the street from The Mystery Bookstore, where I was reading. A friend of a friend passed along recommendations for Houston. In Pittsburgh, the lovely couple that owns Mystery Lovers Bookshop researched gluten-free restaurants in the area so that they could take me out to dinner while I was in town. While I was in Phoenix/Scottsdale, I got to meet the lovely Liisa (who wrote a Reader Report about her trip to Hawaii a while back), and she gave me a list of very accommodating local restaurants.
Still, Never Travel Unprepared: My hotel in Houston, the Four Points Sheraton, left a lot to be desired. That was especially true on the food front. As one employee said to me, when I started to ask about gluten-free options: "What, do you want me to explain what's in a steak to you?" I was very glad I had protein bars, pistachios, and fruit along with me.
Fast Food Chains Are Catching On: At Houston's Hobby Airport, my only dining option turned out to be Wendy's, which offers gluten-free salads. At Philadelphia's Central Station, I was able to pick up dinner at Cosi. At Phoenix's Sky Harbor Airport, I was able to have dinner at Paradise Bakery Café. To tell the truth, the employees at each of these places didn't know what gluten-free was and had to get a manager, but each turned out to have a list (in Cosi's case, a giant binder) of nutritional information for people with food allergies or gluten intolerance.
* Â  Â  Â  Â  Â * Â  Â  Â  Â  Â *
If you'd like to read THE DAMAGE DONE, the first three chapters are available for free online. The book is available from independent mystery booksellers across North America, as well as from IndieBound, Amazon, Barnes & Noble, Borders, Powell's, and — in Canada — Indigo/Chapters. Signed copies are available from The Mystery Bookstore, Murder by the Book, The Poisoned Pen, and The Mysterious Bookshop.