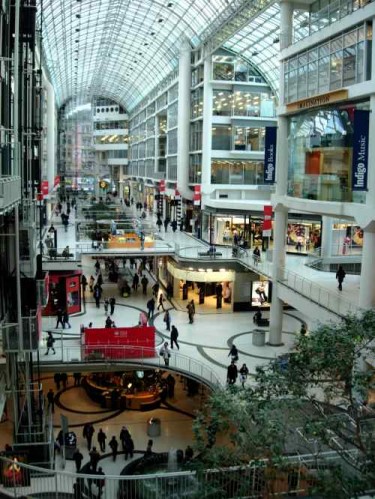 Last week I met a fellow celiac who asked me what foods I missed the most since going on the gluten-free diet more than five years ago. I had to admit that there's no one specific thing that I crave. As far as I'm concerned, the major food groups are comprised of chocolate, cheese, fresh fruit, and wine, and being diagnosed with celiac disease hasn't stopped me from enjoying them (though it has limited my selection of chocolate, since some brands — such as Lindt — are made with malt). I've found gluten-free pizza, pasta, croissants, and even butter tarts. But there is one thing I miss, and that's convenience.
Most people take for granted that if they're out for hours — or stranded at an airport — they can find a quick meal somewhere. The gluten-intolerant don't always have that luxury. Last week, when a business lunch in Toronto was cancelled at the last minute, I decided to explore the options. Since I was close to the Eaton Centre, Toronto's famous shopping complex, I headed there. The news was better than I expected, and I found a few spots that could work for people with celiac disease as well as those with food allergies.
Freshii: The beauty of the construct-your-own-meal concept is that it's usually easier to avoid the trouble spots. Freshii offers salads as well as rice bowls (made with brown rice) and rice-noodle bases, to which you can add fresh, unseasoned ingredients.
New York Fries: This Canadian chain serves up fries and only fries, so there's no chance of cross-contamination in their fryers (an issue that can be a problem at some of the most famous fast-food chains). The fries are cooked in trans-fat-free sunflower oil. One catch: while the fries are gluten-free, some of the seasonings and sauces are not.
Chipotle Mexican Grill: Well-known in the U.S. for its gluten-free options, Chipotle is a relatively new player on the Toronto fast-food scene. There are several options for celiacs, and the chain is allergy-aware, too. Take a look at the company's allergen information, a chart that shows which ingredients contain wheat, milk, eggs, fish, shellfish, peanuts, tree nuts, and soy, as well as gluten. Chipotle is located across the street from the Eaton Centre in Toronto Life Square ([address] 323 Yonge St., Toronto [tel] 416-596-8600).
Does anyone have a go-to spot for when they need a quick, easy gluten-free meal? (Healthy would be great, too, but I know you can't always have everything!)