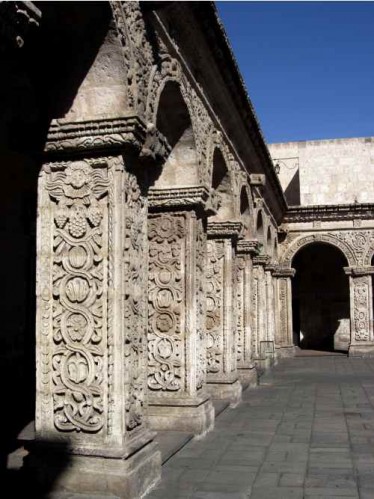 Of all of the cities I've traveled to, Arequipa has got to be the most underrated. Peru's second-largest city is known as La Ciudad Blanca — the white city — because so many of its monumental buildings and churches are carved out of sillar, a ghostly white volcanic rock. (Arequipa lies at the foot of El Misti, a volcano that was described to me as "currently inactive.") The city is famous for two attractions: Juanita, the Inca maiden who has become the world's most famous human sacrifice, and the Monasterio Santa Catalina, a historic city within the city. Otherwise, Arequipa is generally regarded as the starting point for excursions to the Colca Canyon or the Cotahuasi Canyon.
That's too bad, because Arequipa is a wonder that deserves to be explored. Its obvious treasures are plentiful, but the city also has a wealth of hidden gems, like the courtyard behind the Jesuit church, which is easy to miss (given that the church itself is filled with art treasures and valuable artifacts). It's also a city that deserves to be known for its fine food. On my last night there, I dined at Zig Zag. Finding an Alpine restaurant in Peru seemed a little incongruous, but its mission — blending the culinary techniques of the Alps and the Andes with ingredients from all over Peru — works very well.
Zig Zag gets a mention in several guidebooks for its antique iron staircase, which was designed by Gustave Alexandre Eiffel (yes, as in that famous Parisian tower), but it also deserves notice for its cooking. At heart, it is startlingly simple: meats such as ostrich, alpaca, and beef, are served atop a sizzling hot stone, which cooks the meat to medium-rareness but leaves it tender and juicy. The quinoa-and-vegetable soup I had was also terrific, even if I did have to argue with the serving staff to get it (they took my celiac disease card so seriously that they decided I couldn't have any grains at all, until I explained otherwise in my rusty Spanish). It made for a memorable meal in an elegant city full of surprises.
Zig Zag Restaurant [address] Zela 210, Arequipa (Cercado), Peru [tel] 0051 54 206 020 [web] www.zigzagrestaurant.com