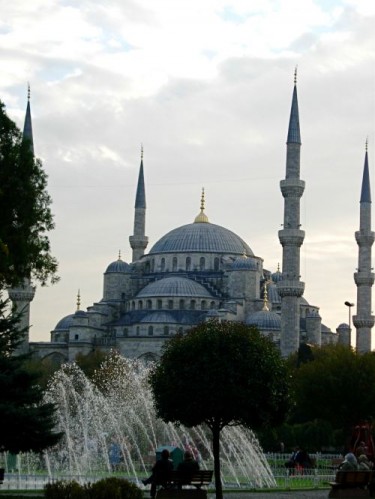 I've written before about why I try to avoid tourist traps. When visiting a city for the first time, the last thing I want to do is to spend time in a restaurant that locals disdain. Are there tour buses lined up outside the restaurant? Then the place is not for me.
But, as it turns out, there are exceptions to the rule. One prime example: Buhara 93.
This restaurant is located around the corner from the wonderful Erguvan Hotel, where I stayed in Istanbul. Both are located in Sultanahmet, the oldest part of the ancient city, situated on the European side of the Bosphorus. This district is filled with wonders, many of which are within easy walking distance of the others: Hagia Sophia, the Blue Mosque, the Basilica Cistern, the Hippodrome. There were tour groups parading in and out of the attractions, of course, but I also noticed that buses would wait outside of Buhara 93 every night. As if that weren't bad enough, the restaurant was mentioned in every guidebook I picked up.
Then, on the last night of my stay, my schedule ran very late. Back at my hotel, I knew I needed to grab dinner somewhere, but wasn't sure what to do. Suddenly, the proximity of Buhara 93 seemed, if not alluring, then at least appealing.
Inside the restaurant, I had my first surprise. I handed the host my Turkish celiac card, and he exclaimed, in English, "Celiac disease! Yes, we know this!" He was familiar with the disorder, simply because, with so many tourists from various countries coming through, he and the rest of the restaurant's staff had encountered it many times before. He was able to point out to me what would be celiac-safe on the menu. There weren't many choices, but the tomato salad and lamb kebabs I had were delicious. Buhara 93 doesn't serve alcohol, but they do offer fresh-squeezed juices, including a pomegranate drink I wished I could take home with me.
I had a great meal, but also an important lesson: sometimes it pays to check out spots that specialize in the tourist trade. Lesson learned.
Buhara 93 [address] Nakilbent Sok. 15A (just outside the Hippodrome), Istanbul, Turkey [tel] 0212-518-1511