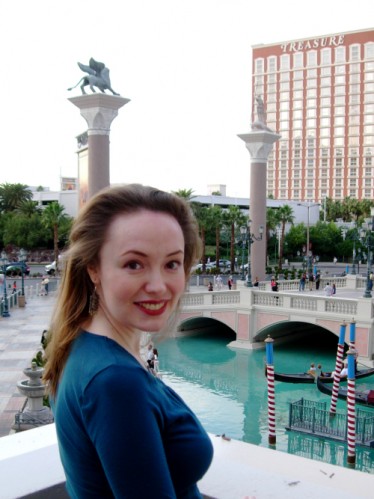 I just got back from Las Vegas, my first trip there since my celiac diagnosis. The city is just as crazy as I remembered it, but also more glamorous and grown-up. It still feels like an amusement park for adults when you stroll along the Strip, complete with roller coasters and other rides (at New York New York, the Sahara, and the Stratosphere), high-powered shows (Cirque du Soleil now has five productions playing there, with a new one — "Viva Elvis" opening soon), and a party-till-you drop atmosphere.
It's also got a startlingly good food scene. I say startlingly because when I last visited Vegas, more than seven years ago, it seemed to be all about all-you-can-eat buffets. I remember towering portions of fried food, which were served up everywhere. There were upscale restaurants run by well-known chefs, but the few I tried seemed stuck on fried food, too (not that I was complaining about gourmet crab cakes back then, but they wouldn't suit my diet now).
My memories of my first trip to Vegas made me trepidatious about what I'd find on the food front this time around. I was aware that it's possible to dine gluten-free in Las Vegas, thanks to the terrific report that Gluten-Free Guidebook reader Elena wrote for this site last year. (Elena is a member of the Bi-State Celiac Support Group, which serves St. Louis, Missouri, and Belleville, Illinois.) But I was torn between wanting to dine safely at some of the great spots Elena identified, and a desire to find new and different places to write about.
Mostly, I chose unfamiliar spots, and over the next few weeks, you'll read about them (and overall, they get rave reviews). But first, let me tell you about the one Elena suggested. She mentioned hearing that the French bistro Mon Ami Gabi, located in the Paris Las Vegas Resort & Casino, was food-allergy-friendly, though she hadn't eaten there. When I called to make a reservation, I mentioned that I was on a gluten-free diet, and asked if that would be a problem. They assured me that it wouldn't be at all.
What I didn't realize, until I was seated at a table there, was that Mon Ami Gabi now has a separate gluten-free menu. The one that I was given in Vegas is different from the one that is online for the restaurant's other locations (there was no gluten-free bread, and the list of desserts was limited to one flavor of ice cream that particular night), but the list of appetizers and entrees was impressive. I had the savory-sweet endive, roasted pear and blue cheese salad to start and a satisfying plate of seared sea scallops with spinach and whipped cauliflower to follow. I also enjoyed the restaurant's French Martini, a mix of vodka and champagne with chambord and pineapple. It seemed only fitting to toast a restaurant that takes such good care of its gluten-free guests — and a city that now offers them plenty of options.
Mon Ami Gabi [address] Paris Las Vegas Resort & Casino, 3655 Las Vegas Blvd. South, Las Vegas, NV 89109 [tel] 702-944-4224 [web] www.monamigabi.com; there are also locations in Chicago, Oakbrook IL, Bethesda MD, and Reston VA.