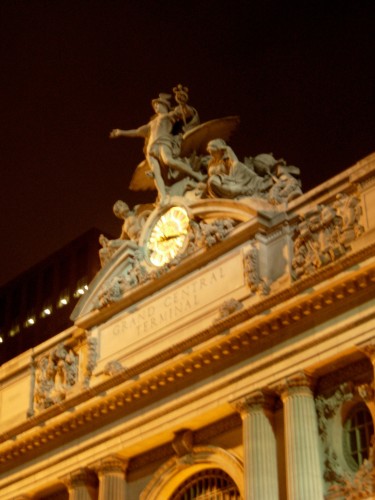 There's not a lot of good I can say about a New York City summer, but one highlight is always ThrillerFest. It's been described as "summer camp for thriller readers, fans, writers and industry professionals." Every year, it brings some of my favorite writers to the Grand Hyatt in Midtown Manhattan for several days. In the past, other gluten-free attendees have asked me where to dine in the area, and I wanted to share my list, since there are a lot of conferences at the Grand Hyatt throughout the year. I've also mapped out the locations with Google Maps. If you find spots to add, please let me know!
S'mac:Â There's now an outpost of this delicious, reasonably priced mac-and-cheese restaurant in Murray Hill. It's a nine-block walk south of the Grand Hyatt, or you can hop on the 6 train at 42nd Street and travel one stop downtown to 33rd Street. It's well worth it. Given that conference meals can take place at weird times, this is a great spot to keep in mind, since it's open from 11am to 11pm daily (closing time is 1am on Friday and Saturday nights).
Dig Inn: This health-focused local chain has a few tables, but mostly it does a take-out business. Its 275 Madison location starts serving breakfast at 7am, then switches to a combined lunch/dinner menu for the rest of the day (until 9pm). Check out this chart for GF and allergy information, as well as vegan options.
Chipotle: This is my go-to fast-food spot. Avoid the tortillas, which are made with wheat flour, but the burrito bowl and all its potential ingredients are gluten-free. The chain provides some helpful food-allergy information on its site. There are three locations within a stone's throw of the Grand Hyatt: 150 East 44th St. (between Lexington and Third), 274 Madison Avenue (between 39th and 40th), and 9 West 42nd Street (between Fifth and Sixth).
Hale & Hearty:Â I know it's hot out, but if you're still craving soup for lunch, this chain has an outpost in Grand Central itself. Daily options change, but you can usually count on a gluten-free broccoli cheddar and the GF and dairy-free Thai chicken.
4Food:Â Usually, I only mention spots I've visited, but this one was just recommended to me. 4Food makes everything from scratch, including its gluten-free pressed-rice bun. I'm looking forward to checking it out!
Bloom's Deli:Â I have to be honest: while I love basic diner food, I'm not thrilled with what's served up here. Still, I appreciate that the place offers a gluten-free menu, which includes omelets, pancakes, burgers and sandwiches.
Bistango: Almost every item on the menu of this Italian restaurant in Murray Hill can be prepared in a gluten-free version. There's plenty of gluten-free pizza and pasta dishes, as well as meatier offerings like  rack of lamb. What really makes a meal at Bistango stand out is the graciousness of its staff. The owner, Anthony, goes back and forth between the dining room and the kitchen, talking to everyone and making sure that diners are comfortable. This is a gem.
Blue Smoke: If you love rich, smoky barbecue flavors, you've found your heaven. This spot offers special gluten-free, nut-free, and vegetarian menus. It's a little far to go for lunch, but a great spot for a post-conference dinner.
Dos Caminos: If I'm having dinner with a group that includes people with various food allergies and intolerances, this is one of my favorite spots. The cuisine is modern Mexican, and the service is incredibly accommodating.
Pip's Place — The Gluten-Free Cakery: I'm not going to recommend that you have a slice of banana layer cake, a chocolate cupcake, or a raspberry pinwheel cookie for lunch… but if you need a mid-afternoon pick-me-up, this dedicated gluten-free bakery is just the spot, especially since it's only three blocks south of the Grand Hyatt.
 *          *          *
The Gluten-Free Guidebook's Fifth Anniversary Contest is open until July 15th. Enter now!