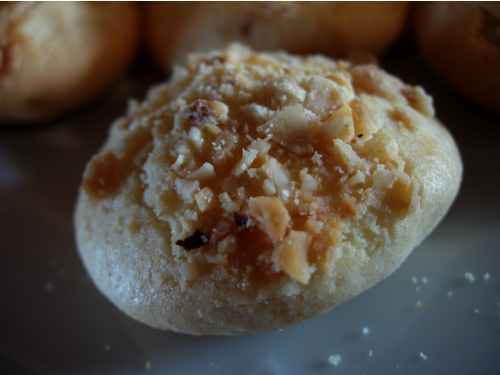 When I was first diagnosed with celiac disease, I tried all of the gluten-free baked goods I could find… and I wasn't very happy with what was out there. I remember rice breads that crumbled into bits with the first bite and pastries that seemed to have a substantial styrofoam content. Now, five years later, I'm amazed by how much the quality has increased and how much choice there is. (I'm speaking primarily of what I see in New York and Toronto, and online; I know that there are plenty of places where it's hard to come by gluten-free baked goods.)
Several bakeries that offer gluten-free treats have contacted me — and some readers have forwarded suggestions — so I wanted to pass along the information. I haven't had the opportunity to visit any of the spots below, so I would love to hear from any readers who have tried them. For the record, I am a fan of Babycakes in New York City ([tel] 212-677-5047 [web] www.babycakesnyc.com). I'd love to hear about your favorites.
Bewitching Elegance: San Francisco-area artist Diane Rinella specializes in wedding cakes, which are available in gluten-free, vegan, and diabetic-friendly versions; [address] 1170 Broadway, Burlingame, California [tel] 510-469-6976 [web] www.bewitchingelegance.com
Cinderella Sweets: I've never used this company's free mail-order service, but I have purchased their gluten-free Passover treats, sold under the name Shabtai Gourmet, at supermarkets in New York. The selection includes traditional almond macaroons, sponge cakes with raspberry filling, and delicate "lace" cookies topped with chocolate. The products are also free of dairy, casein, and soy, and they are certified kosher; [tel] 516-652-5671 [web] www.cinderellasweets.com
Coffee Plant: There are two Coffee Plant cafés in Portland, but one is entirely gluten-free. The husband-and-wife team who run the business bake the fresh muffins, scones, cookies, cakes, quiches, and breads on a daily basis; [address] 5911 SW Corbett, Portland, Oregon [tel] 503-293-3280 [web] www.coffeeplant.net
GF Patisserie: This dedicated gluten-free bakery set up shop last August in Cochrane, Alberta, a short drive from Calgary. Owner Victoria Edlinger told me that they started by offering three types of quiche, but their product range now includes cream puffs, sacher torte, Italian flatbread, and butter tarts; [address] 122 3rd Ave West, Cochrane, Alberta [tel] 403 990-9565 [web] www.gfpatisserie.com
Rose's Wheatfree Bakery: This Chicago-area bakery and cafe is entirely gluten-free, and it also offers dairy- and egg-free options. Rose's bakes up everything from snickerdoodles to chocolate-cherry-hazelnut biscotti, and from breads to pizzas; [address] 2901 Central Street, Evanston, Illinois [tel] 847-859-2723 [web] www.rosesbakery.com
Swirlz Cupcakes: Located in Chicago's Lincoln Park neighborhood, Swirlz offers gluten-free cupcakes in flavors like chocolate grasshopper mint (I'm not sure what that means, but I'm curious); [address] 705 West Belden, Chicago, Illinois [tel] 773-404-2253 [web] www.swirlzcupcakes.com
Triple Oak Bakery: This dedicated gluten-free bakery opened in Virginia's Rappahannock County in the fall, after owner Brooke Parkhurst found that demand for the treats she was baking in her home kitchen just kept growing. Offerings include carrot cupcakes, mocha dream cake, and cream puffs, and they are also available at The Natural Marketplace in Warrenton and Better Thymes in Front Royal; [address] 11692 Lee Highway, Sperryville, Virginia [tel] 540-675-3601 [e-mail] tripleoakbakery@gmail.com.