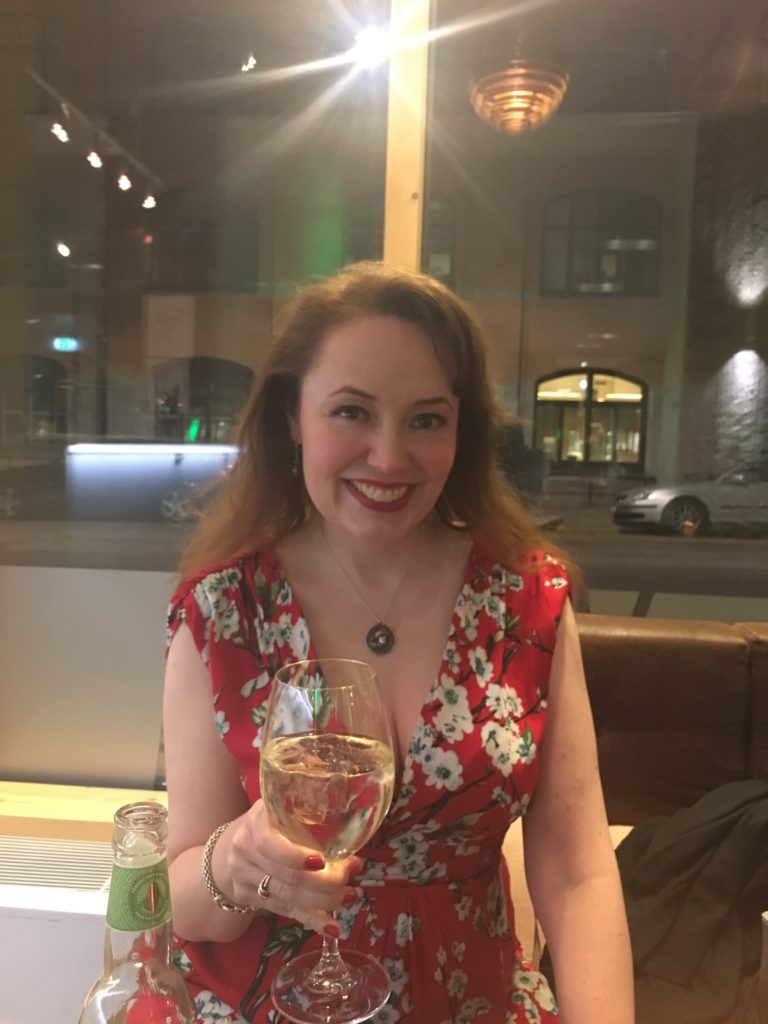 Late this summer, I spent a week in Stockholm and fell in love with the city. Several people asked me if there was "enough to do" in Sweden's capital to justify that long a stay (most seemed to think of Stockholm as a weekend destination for those en route to Copenhagen). I can happily report that a week was barely enough to scratch the surface. Stockholm is blessed with great museums (the Vasa was my favorite); several palaces, including the historic castle in the Old City and the UNESCO World Heritage Site of Drottningholm, where the Swedish Royal Family now lives; and it has gorgeous architecture and parks and public art installations. Even the subway system serves as a kind of roving art gallery, at least in the downtown stations I saw. The fact that Stockholm is spread across a series of islands gives it a physical beauty that is simply breathtaking.
And then there's the food.
To say that Stockholm is a haven for those who eat gluten-free is an understatement. Everywhere I went, people were familiar with celiac disease, aware of potential cross-contamination issues, and willing to help. It was, quite possibly, the most relaxed I've felt traveling since I was diagnosed with celiac disease in 2004. I didn't use any of the Swedish-translated cards I brought along; everyone I met spoke at least some English, and the Swedish word for gluten-free — glutenfrei — got an immediate reaction everywhere I went. Here are some of the places I recommend:
Hotel Birger Jarl: This was my home away from home in Stockholm. Located where the neighborhoods of Vasastan and Norrmalm meet, the hotel was on a quiet street, but close to every amenity I could want and only a 10-minute walk from the busy city center. It served the most satisfying buffet breakfast I've ever had at a hotel, with signs indicating what was gluten-free and steps taken to prevent cross-contamination (for example, GF bread was on a separate table from wheat bread). I had dinner at the Birger Jarl's restaurant one night and was impressed; several menu items are indicated as gluten-free, but others could be modified.
Tranan: This historic restaurant in Vasastan opened in 1929, and it's not hard to understand why it's perennially popular. The setting is elegant, the food is excellent, and the service is superlative. When I told the waiter that I have celiac disease, his face lit up. He carefully went over the long menu with me, then brought me some of the most delicious bread I've ever tasted, served hot. Tranan serves classic bistro fare with a Swedish twist (there's plenty of herring on the menu). My steak tartare was paired with truffles, Parmesan, and almonds, and it was perfect.
Hemma Vasastan: "Hemma" means home in Swedish, and this charming restaurant wants diners to feel as comfortable as if they were dining at home (minus the work, of course). The server brought me my own gluten-free bread basket, which contained both a warm toast and a traditional crispbread. My goat cheese starter salad was delicious, as was my Arctic char with asparagus risotto. This was also the spot that introduced me to Briska pear cider, one of my favorite finds of the trip.
Lilla Ego: This tiny spot in the Vasastan neighborhood was the trendiest spot I visited. It's featured in a Michelin guidebook and is often booked a month in advance, but I was lucked into a reservation for two by being flexible on dates (I ate there on a Tuesday night). The service is friendly but casual, which belies the ambitious, innovative cuisine. My favorite dish of the evening was actually dessert, a goat-cheese creme brulée that had hot and cold layers, plus macadamia nuts for good measure. It was a perfect mix of savory and sweet.
Vurma: This casual spot seemed to be very popular with locals, judging from the number of people dining on the open-air patio with their dogs). It's located in Ostermalm, which had some of the most stunning architecture in the city. I dined here my first night in town (after failing to sleep on the overnight flight), so I have to trust my notes instead of my memory: "Salmon with potatoes & mint sauce = perfection."
Da Peppe: The small island of Gamla Stan is Stockholm's historic heart, but that doesn't make it any less of a tourist trap. I was warned in advance about how hard it can be to find good food here, and I struck out on my first two attempts. Then I lucked out by finding Da Peppe, which stocks corn pasta for gluten-free guests, as is happy to make any other required accommodations. My chicken penne was served with a chili-infused cream sauce that turned up the heat in a rich but tantalizing way.
McDonald's: It's been 13 years since I've eaten at McDonald's (I was diagnosed with celiac disease back in 2004). I was curious when I heard that many Swedish McDonald's restaurants offer gluten-free Big Macs. I tried one at a busy kiosk in the city center on my first day in town, and I was impressed by the steps taken to avoid cross-contamination. And yes, the Big Mac tasted just the same as I remembered. (PS to McDonald's: If you can manage this in Stockholm, why don't you give it a try in some North American cities?)