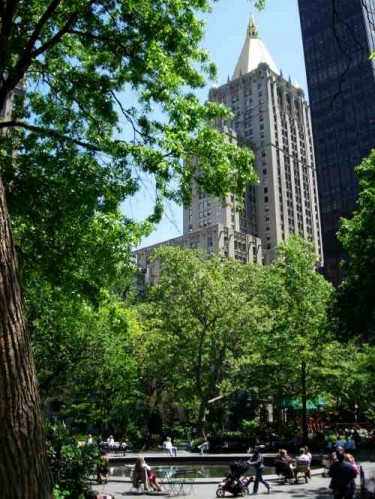 It's no secret that I'm a huge fan of Danny Meyer and his New York City restaurants. As one of the most prominent supporters of the Greenmarket in Union Square, the restaurateur has helped New York-area farmers, the locavore movement, and Manhattanites who want to enjoy fresh, sustainable produce. Meyer's restaurants — including Gramercy Tavern, Union Square Café, Blue Smoke, and Eleven Madison Park — are delicious spots with well-trained staff who are happy to cater to diners with celiac disease or food allergies. Still, I have to confess that I was trepidatious about trying his Tabla Bread Bar. Let's just say that sounded like an automatic no-go zone for anyone with celiac disease.
That's not to say that I don't like Tabla Restaurant, the Bread Bar's glamorous sibling. I've had a few meals at Meyer's Indian-inspired formal dining room, all intensely good and gluten-free. The dining room and the less formal Bread Bar are located in the corner of an historic bank building that overlooks Madison Square Park. The dining room is on the second story, while the Bread Bar operates on the first, and includes some al fresco seating.
If it hadn't been for visiting friends from Vancouver, I never would have discovered that Tabla's Bread Bar is as celiac-friendly as the formal restaurant. The two spaces are served by the same kitchen, where the staff is trained to avoid cross-contamination. The fact that the Bread Bar serves smaller plates — and is easier on the wallet — makes it an inviting find. At dinner, I had the incredibly tender Kerala Black Pepper Chicken (seared chicken stewed with curry leaves, onions, and black pepper), the Mung Bean Ussal (flavored with tamarind and coconut), and tandoori-cooked lamb. I was even able to have bread, in the form of a large, crisp wafer made of chickpea flour.
The Bread Bar isn't the only place to get a deal: Tabla's dining room is offering a prix fixe lunch menu year-round, not just during Restaurant Week. For $25, you can enjoy an opulent, elegant meal — and the staff will make any modifications necessary to make it gluten-free. It's a splurge, but it's worth it.
Tabla and Tabla Bread Bar [address] 11 Madison Avenue (at East 25th Street), New York, NY 10010 [tel] 212-889-0667 [web] www.tablany.com