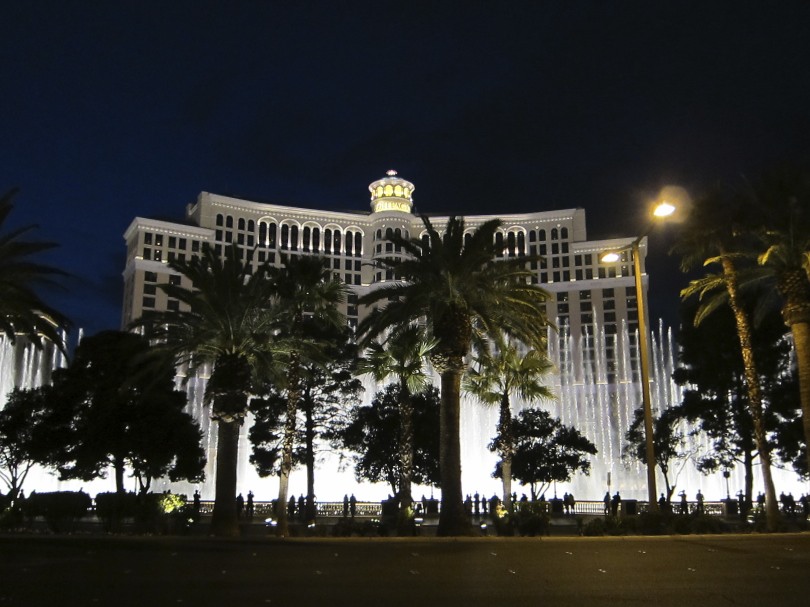 Las Vegas's official motto is "What happens in Vegas stays in Vegas," but I was there for a few days in December, and you wouldn't expect me to keep secrets about where I dined, would you? I'm thrilled to report that the Strip is filled with an ever-expanding array of gluten-free options. Here are some of of the places I enjoyed:
Mon Ami Gabi: This Parisian-style bistro is directly across the Strip from the Bellagio's fountains, so you get a spectacular show every half-hour. The gluten-free menu was just as impressive to me, and I ate at the restaurant twice: once for dinner (with decadently cheesy French onion soup and lovely steak frites) and once for lunch (for a savory burger with a gluten-free bun… and more frites). Every gluten-free guest is automatically served warm GF bread, which was a delight (that was something Mon Ami Gabi didn't offer the last time I was in Vegas, in 2009). In Paris Resort & Casino [address] 3655 Las Vegas Blvd. South [tel] 702-944-4224.
Border Grill: Located at the south end of the Strip, this restaurant also offers a separate gluten-free menu. The dishes are on the heavy side, but you didn't come to Vegas for health reasons, did you? The queso fundido was served up as a starter, but it almost made an entire meal, with its gooey mix of melted manchego, panela, asadero, and Oaxacan string cheeses, served with chorizo and roasted poblano peppers. Don't ask me how, but I still found room for the Kobe beef tacos, too. In Mandalay Bay Resort and Casino [address] 3950 Las Vegas Blvd. South [tel] 702-632-7403.
Bartolotta Ristorante di Mare: Located at the Wynn, this was a break-the-bank kind of meal, but the incredible fish is worth it (the "catch of the day" is literally flown in fresh each day). On the phone, I was told there was a gluten-free menu, but I was disappointed when I first saw it, because what I saw was a small booklet with all of 10 dishes listed inside. However, that turned out to be simply a list of the plates that are naturally gluten-free, and the chef was happy to modify almost anything on the menu to make it celiac-safe. The restaurant overlooks a private lagoon, making for an exceptionally romantic setting, too. In Wynn Las Vegas [address] 3131 Las Vegas Blvd. South [tel] 702-770-3463.
Aria Buffet: I'm a little afraid of buffets, to tell you the truth. There's so often a risk of accidental cross-contamination — all it takes is for a careless guest to use the same serving tongs on a mix of gluten-full and gluten-free different dishes to ruin the latter ones. That's why the Aria was such a pleasant surprise. I was there for brunch, and the fresh omelette station was a welcome find. Overall, the buffet was well organized, so that fruit salad was far away from cereals, lessening the risk of cross-contamination. Located in the Aria [address] 3730 Las Vegas Blvd. South [tel] 877-230-2742.
P.F. Chang's: I'm still wishing a P.F. Chang's would open in Manhattan. The restaurant has an Asian-inspired gluten-free menu with plenty of choice for starters and mains, and two options for dessert: rich chocolate mousse or a dark-chocolate-and-raspberry cake. Located in Planet Hollywood [address] 3667 Las Vegas Blvd. South [tel] 702-836-0955.
Maggiano's Little Italy: My first time dining here, and I loved it. Gluten-free guests automatically get a visit from a sous-chef at their table, so their (many) options are clearly pointed out. I'm officially a fan of the "Rigatoni D" (with chicken, caramelized onions, mushrooms and a marsala cream sauce). Located in Fashion Show Mall [address] 3200 Las Vegas Blvd. South [tel] 702-220-4185
*Â Â Â Â Â Â Â Â Â  *Â Â Â Â Â Â Â Â Â  *
I have book news: my debut novel, The Damage Done, is now out in paperback in the U.S. and Canada! You can see its beautiful new cover, watch a video interview with me about the book, and enter a contest for a signed copy.
My second novel, The Next One to Fall, will be released on Valentine's Day 2012. It's a murder mystery set in Peru, and it's already getting wonderful reviews. There's a special contest for people who pre-order the book, and for every copy that is ordered before the release date, I'm donating a dollar to Heifer. I'm also planning a book tour that will take me back to Houston, Phoenix/Scottsdale, Los Angeles, and San Francisco, and that will introduce me to Austin, Denver, and San Diego. Hope to see you while I'm on the road!