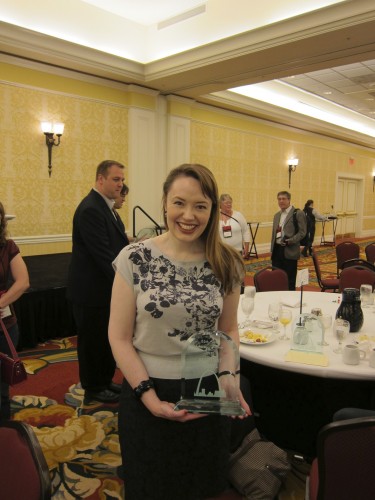 In September, I attended the Bouchercon World Mystery Convention in St. Louis. I had an amazing time for many reasons, including the fact that my debut novel, The Damage Done, won two awards! At the opening ceremonies, I was presented with the Crimespree Award for Best First Novel; then at the close of the conference, I discovered I'd won the Anthony Award for Best First Novel. It was a dream come true for me in so many ways, and I want to say a heartfelt thank-you to everyone who has supported my fiction. I can't tell you how much that means to me.
While I was in St. Louis, I had some memorable gluten-free meals. Bouchercon took place at the Renaissance St. Louis Grand Hotel (which did a fabulous job with the Anthony Awards brunch). Here's a list of the restaurants I discovered while I was in town:
Rooster: If you're looking for a gluten-free crepe in downtown St. Louis, you're in luck. Rooster describes itself as a European-style cafe, and it has a lovely Old World ambiance in its design (plus sidewalk seating in warm weather). But the crepes are what I remember best, and I split two with my dining companion: the savory Bacon #2, which is made with Vermont cheddar and caramelized onions, and the sweet Nutella crepe with strawberries. Even writing about them now is making my mouth water. [address] 1104 Locust Street, St. Louis [tel] 314-241-8118

Copia Urban Winery: My publisher, Tor/Forge, hosts a dinner every year at Bouchercon — and the thoughtful editor who organizes it always asks me to check out the place in advance to make sure I'll be able to find gluten-free options. Copia was a stone's throw from the conference hotel, and it boasted a menu filled with fresh produce and a staff that was well-versed in potential cross-contamination issues. I had the Copia Salad (mixed greens with a red-wine-soaked onion, plus tomato, and goat cheese, hold the crostini), and a filet of beef tenderloin with grilled vegetables. [address] 1122 Washington Avenue, St. Louis  [tel] 314-241-9463

Mango Peruvian Cuisine: Having visited Peru, I know that authentic Peruvian cuisine is generally celiac-friendly (it's based on corn, potatoes, and quinoa). Still, North American interpretations of Peruvian cuisine aren't always as easy to navigate. Mango had a number of great options, though, including ceviche, salad, and spicy-yet-sweet chicken breast topped with mango and red pepper. The restaurant also boasted the best pisco sour I've had since I was in Peru! [address] 1101 Lucas Avenue, St. Louis [tel] 314-621-9993

Culinaria: Is it strange to include a supermarket? Not if it's Culinaria. Its fresh-food department had a Greek salad that made for a quick gluten-free meal when I needed one (since it was conveniently packaged, I also brought one to the airport with me after the convention). There's cafe seating upstairs (and in front of the store, in good weather). There's also plenty of gluten-free food — crackers, cookies, etc. — in its grocery aisles. [address] 315 North 9th St., St. Louis [tel] 314-436-7694
*Â Â Â Â Â Â Â Â Â  *Â Â Â Â Â Â Â Â Â  *
More book news: My second novel is called The Next One to Fall; it will be published in the US and Canada on Valentine's Day 2012. It's a mystery set in Peru, and it's already getting some wonderful praise from novelists such as Laura Lippman and Meg Gardiner. There are 10 advance copies up for grabs in the GoodReads giveaway (entering the giveaway is free; all you need is a mailing address in the US or Canada). I'm already planning my book tour, with dates in New York City, Houston, Austin, Scottsdale, and other cities.