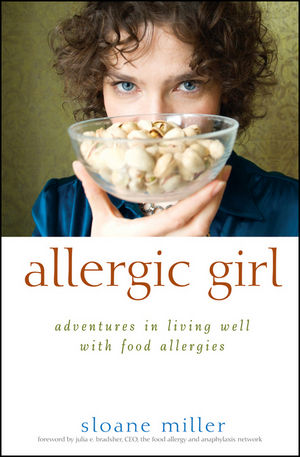 One of the very best things about creating the Gluten-Free Guidebook is that the site has connected me to some wonderful people. A case in point: my friend Sloane Miller, otherwise known as Allergic Girl. She's a tireless educator and advocate for people with food allergies, and a warm, enthusiastic person both online and in real life. She doesn't have celiac disease, but she follows a gluten-free diet, so I've referred the gluten-intolerant as well as people with food allergies to her site many times. Now I'm referring them to her new book, too. Allergic Girl: Adventures in Living Well With Food Allergies has just been published by Wiley. Library Journal gave it a starred review, saying:
"The book is divided into three sections: an introduction to food allergies, how to cope with them, and how to find the right doctor; several chapters on relationships with self, family, friends, lovers, and food; and discussions of how to manage dining out and participating in social events and celebrations involving food. Throughout, Miller emphasizes building positive relationships, and she coaches readers to be assertive but also patient with others who may not know how to respond to someone with food allergies… VERDICT As the parent of a child with a severe food allergy, this reviewer found Sloane's approach both positive and practical. Highly recommended for anyone with food allergies, as well as their families and friends."
Check out Sloane's blog, book trailer, and book tour. I interviewed Sloane a while back for an "On the Road With…" feature; a more recent piece about her can be found on CNN.
While on the subject of books, I should mention why I haven't been blogging much lately. My debut novel, The Damage Done, was published by Tor/Forge in September, and I went on a book tour that took me to eight states and two countries. (I'm grateful for the wonderful reviews the book has received, and the continuing interest in it.) I also wrote a second mystery novel, The Next One to Fall, which is set in Peru and will be published by Tor/Forge in January 2012. Right now, I'm at work on a new novel.
I also want to mention that, next Tuesday, one of my favorite authors, Linda Fairstein, will release her 13th novel, Silent Mercy. I was lucky enough to get an advance copy, and I can promise you it's excellent. Happy reading!