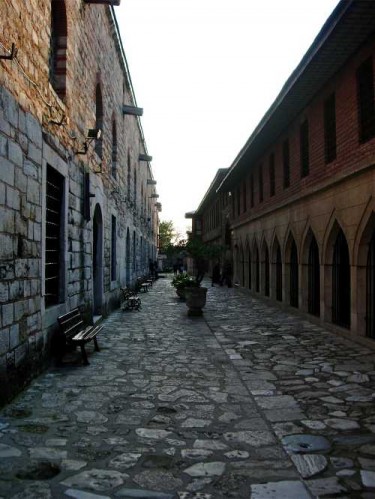 The Gluten-Free Guidebook is having its first-ever Reader Report Contest (check out this post to enter). I've received questions about it from some readers, and I wanted to answer them here, in case others are wondering the same thing. It's perfectly fine to send a list of your favorite celiac-safe restaurants and shops, without actually "reviewing" each one. Some Reader Reports that are already on the site are actually lists like that, and they're very helpful to people. The Reader Report can be about anywhere in the world, and it's perfectly alright to write about a destination already featured on the site. There's always new information to share. I look forward to reading your entries!
Contest aside, several readers have sent me tips about gluten-free restaurants and bakeries via e-mail, Twitter, and Facebook, and I want to pass these along. I'm always grateful when people take the time to share information, and I know that these tips will help many others.
Kathy, a reader in Montreal, visited New York a few weeks ago, and wrote to tell me about a restaurant she'd enjoyed: Emporio. She described it as having a "great GF menu, helpful staff and wonderful atmosphere." I haven't tried it yet but plan to. ([address] 231 Mott Street; [tel] 212-966-1234; [web] www.auroraristorante.com)
Chelsea, a reader in Toronto, wrote: "The Starving Artist cafe/waffle bar in Toronto (near Bloor/Lansdowne) has really awesome gluten-free (and vegan) waffles. You can substitute the GF waffles in any of their waffle meals/desserts." That's another place on my list of places to try. ([address] 584 Lansdowne Avenue; [tel] 647-342-5058; [web] www.starvingartistbar.com)
My friend Henny Groenendijk, also based in Toronto, told me about a new gluten-free bakery in Oakville, Ontario. It's called Voila Gluten Free Bakeree ([address] 22 Lakeshore West, Unit 6; [tel] 289-837-0110; [web] www.voilaglutenfreebakeree.com).
Another friend, Margaret Littman, told me about Fifth Group Restaurants, a company in Atlanta, Georgia, that recently launched gluten-free menus at each of its five restaurants: El Taco, Ecco, La Tavola Trattoria, and South City Kitchen (which has two locations). From the company's official statement: "We are dedicated to giving our guests as many dining options as possible – and that includes options for those with dietary restrictions. It's another step in striving to satisfy our current patrons and potential new diners, and with a rise in celiac disease diagnoses, I think it's a big step that we absolutely must take."
It's always exciting to see more places offer gluten-free options. What have you found lately?