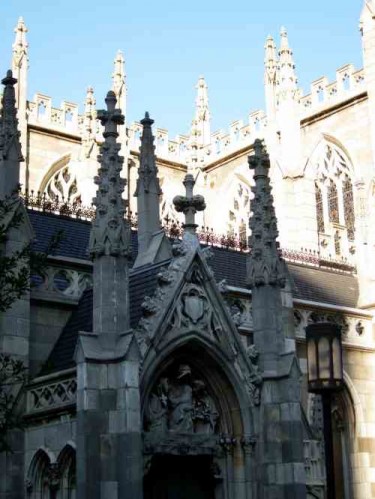 New Yorkers are notorious for their impatience, but I think that it's mostly a myth. I've become a more patient person since moving here seven-and-a-half years ago, though it hasn't happened by choice. New Yorkers are forced to wait in line for just about everything. If you've ever visited the Trader Joe's supermarket on East 14th Street, you know what I mean (the line to check out wraps around the entire store and can take 45 minutes on a bad day). And while I love Risotteria, there's a reason I haven't written about it before: having dinner there requires patience.
Risotteria is in the West Village, a few blocks from Washington Square Park. It describes itself as one of the most famous gluten-free restaurants in America, and I don't doubt that. It's perpetually mobbed, and since you can basically count the number of seats on your fingers and toes, demand consistently outpaces supply. Even in this economic downturn, Risotteria keeps packing them in — not a surprise when you factor in its very reasonable prices for its excellent cooking. Service is incredibly swift but also quite sweet. Here's the bad part: Risotteria doesn't do reservations. That means you wait for your table with everybody else, either in the tiny vestibule or out front on Bleecker Street, where there's a bench. When the wait gets extremely long, sometimes the waitstaff comes outside with gluten-free breadsticks, guaranteeing that you'll hang around.
Not everything on the menu is gluten-free, but the many celiac-safe options — including risotto, pizza, and panini — are clearly marked, as are the choices for vegetarians (plentiful) and the lactose-intolerant (slim pickings). There is nothing I've tried in my many visits here that I haven't loved. The gluten-free Caesar salad is a favorite (but so is the spinach salad with goat cheese and roasted peppers). The risotto dishes are irresistible to me (I usually choose them over pizza, a fact that shocks me). I love the carnaroli risotto with roasted chicken, porcini mushrooms, and pine nuts; my husband loves a spicier risotto with shrimp, hot peppers, and mozzarella. And every person I've dined with at Risotteria has been wild about the desserts, all of which are gluten-free (don't get me started on the subject of the "Fudgie," two thick chocolate-chip cookies with chocolate fudge in-between).
That's the secret about Risotteria. I've met others with celiac disease while dining there (the tables are so close together that mingling is common), but none of the people I've dined with at Risotteria are gluten-intolerant. They are willing to put up with the long wait because the food is that good. You can use your wait-list time to explore the neighborhood. Bleecker is filled with interesting shops, the excellent Partners & Crime bookstore is a few blocks away, and the Village boasts stunning architecture and charming streets. Just remember to be patient.
Risotteria [address] 270 Bleecker Street (between Sixth Avenue & Seventh Avenue), New York, NY [tel] 212-924-6664 [web] www.risotteria.com