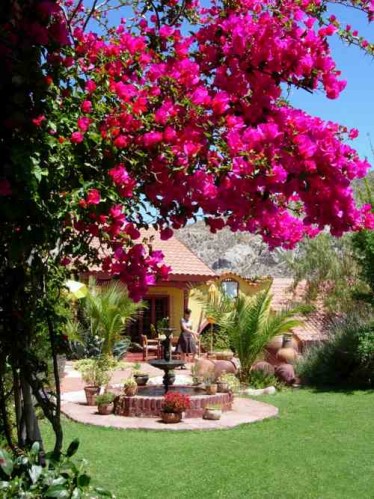 Taking a vacation used to be about getting away from it all. Now, it feels like wherever people go, we're plugged in almost as well as we are at the office and at home. Most of the travel that I do is for work, so I lug along my laptop, hunt down WiFi hotspots, and respond to e-mails as if I were at my desk. The problem is, I'm just as much of an e-mail addict when I'm traveling for pleasure.
Maybe that's why I appreciated Hacienda los Andes, a small outdoor lodge in Chile, so much. Getting there was an adventure in itself — the property is roughly a two-hour drive from the city of La Serena — through terrain that ranges from scenic olive groves to dramatic cliffs and valleys (the Hacienda is also accessible from Vicuña and Ovalle; its staff will arrange transfers for visitors from any of those three towns). It had been some time since I'd found myself in a place where my cell phone didn't get a signal, and that was a good reminder to put away the tech toys.
The Hacienda los Andes is spread over a thousand acres, stretching from the Rio Hurtado to the top of the Cerro Gigante mountain. On the site is an old gold mine, which my husband and I hiked to on our first day there. There's also a serene courtyard, a series of hammocks strung up around the casa and its terraces, a sauna and a Jacuzzi. The biggest attraction is horseback riding: the Hacienda's German-Austrian owners, Clark Stede and Manuela Paradeiser, lead incredible tours on horseback that can be tailored even for those who haven't ridden before. There's also mountain-biking and Jeep tours of the foothills of the Andes. At night, the view of the southern sky is breathtaking.
What I loved best about the Hacienda was its kitchen. Only a small part of the acreage at the property is cultivated for growing; most of the produce comes from the small farms of the Rio Hurtado Valley. This turned out to be heaven for a celiac: because everything was made from scratch in the Hacienda's own kitchen and the nearby village, there was no problem with mysterious sauces or ingredients. The staff was incredibly considerate of my dietary restrictions, and they also went the extra distance for me; for example, by baking a gluten-free corn bread for me to have with my breakfast (the results were a little crumbly but still delicious). The staff was equally considerate of my husband's request for vegetarian dishes and another guest's lactose-free diet. While I didn't find any nuggets at the abandoned mine, I did feel as if I'd struck gold in the Andes.
Hacienda los Andes [address] Rio Hurtado, Hurtado, Chile [tel] +54 53-691-822 [web] www.haciendalosandes.com