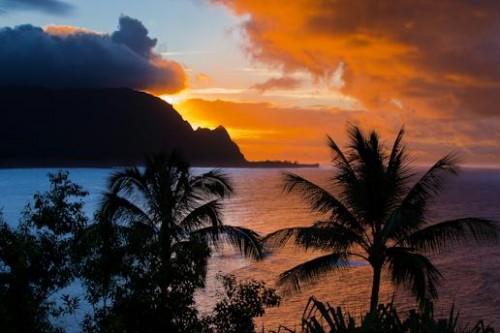 Considering how far I've traveled around the world, it seems strange that I have yet to visit Hawaii. Lately, I've been hearing so much about the rising level of gluten-free awareness there that I'm tempted to head out to the Hawaiian Islands and do some first-hand research. (It's a tough job, but someone has to do it, right?)
A while back, my friend Liisa wrote a report for the Gluten-Free Guidebook about celiac-safe spots she'd found in Oahu and Kauai. Her list includes Sweet Marie's — the first dedicated gluten-free bakery in Kauai — Smith's Tropical Paradise in Kauai, and Down to Earth in Honolulu. Last month, another friend sent me a photo to show off a delicious-looking gluten-free sandwich she was enjoying while on vacation in Hawaii. It turned out she was at Living Foods Market & Cafe in Poipu, Kauai, a combination grocery store and café featuring specialty gourmet goods (including many gluten-free items), organic products, and an extensive wine selection.
Next, my friend and fellow travel writer Lucas Aykroyd passed along a list of gluten-free restaurants and shops in Hawaii, with notes on each spot from the Hawaiian Tourism Board:
Chrysalis Foods (Oahu) – Looking for a gluten-, dairy- and nut-free spot to eat while shopping at Ala Moana Center? Break away from the food court and visit the Vim 'N Vigor store for the Chrysalis foods counter. The menu changes every week, offering local favorites such as mochiko chicken and mochi treats.
Up Country Bakery & Cafe (Hawaii Island) – Satisfy your breakfast taste buds with gluten-free mixed berry muffins, gluten-free banana bread slices or gluten-free pancakes. On your way to see the volcano? Grab a sandwich on gluten-free bread and take it on the road.
Maui Brick Oven (Maui) – Located in Kihei, this restaurant initially gained popularity for its gluten-free pizza. Locals and visitors frequent this eatery for its impeccable service and menu selection that also includes pasta and salads.
I'm almost ready to buy a ticket. Has anyone else discovered some great places to eat in Hawaii? Let me know and I'll add them to the list!
Photo courtesy of the Hawaiian Tourism Board