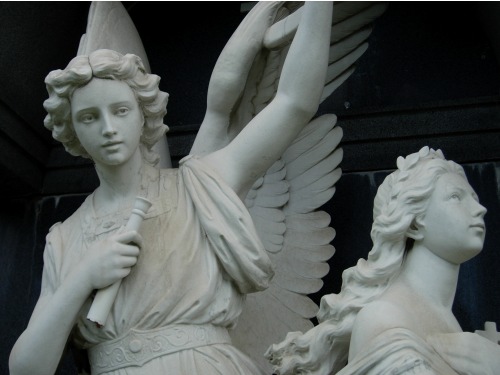 I've been spoiled lately. So many restaurants have started offering gluten-free options that it's becoming increasingly rare for me to need to explain the diet when I go out. While I love the convenience, I realize that I'm gravitating to the same places, over and over again, rather than finding new ones.
This really hit home last week, when I was at a lounge, Three of Cups, in New York's East Village. I was there because the lounge's basement bar is home to the monthly "Sweet: Actors Reading Writers" events, a literary series created by Shelly Oria and Annie Levy. I'd been invited to participate because my debut crime novel, The Damage Done, will be published by Forge in October 2010. (I mentioned my two-book deal with Forge in a previous post; if you want to read more about my fiction, the terrific Steve Weddle of Do Some Damage recently interviewed me.) It was an exciting opportunity, particularly since a very talented actress, Maria Portman Kelly, would read from my book.
It turned out to be a wonderful evening. There were five different actors reading works by five writers, and the space was packed. (If you'll be in New York anytime soon, I'd encourage you to check out the series; the next reading is April 1st.) My editor asked me and my husband to have dinner afterwards with a couple of other editors from Forge. They were planning to eat at Three of Cups, and I immediately balked at the idea. All I'd seen on the menu at the restaurant above the bar was pizza and pasta, and I was sure I wouldn't find anything to eat.
I was wrong. It turned out that I had options — not a long list of choices, but a few dishes that were very simply prepared — and that the restaurant's staff was very accommodating. For a gluten-free appetizer, there was grilled calamari (not breaded, just treated with a little salt and oil), a caprese salad (tomatoes, buffalo mozzarella, basil, and oil), and prosciutto with Parmesan (literally, just those two wonderful ingredients on a plate); we ordered all of them for the table to share. For my main course, I had roasted chicken, seasoned with rosemary, salt, and oil and served with potatoes and string beans. It was a wonderful meal for many reasons: great company, terrific food, and an important reminder that gluten-intolerant people have a wider range of options than it might at first seem.
Three of Cups [address] 83 First Avenue (at Fifth Street), New York, NY [tel] 212-388- 0059 [web] http://threeofcupsnyc.com
*Â Â Â Â Â Â Â Â Â  *Â Â Â Â Â Â Â Â Â  *
Speaking of The Damage Done, the design team at Forge did an amazing job on the book's cover. Also, I'm excited to announce that three of my short stories have been nominated for Derringer awards: "Insatiable" appeared in Beat to a Pulp, "Stepmonster" in Thuglit, and "Family Man" in Crimespree.