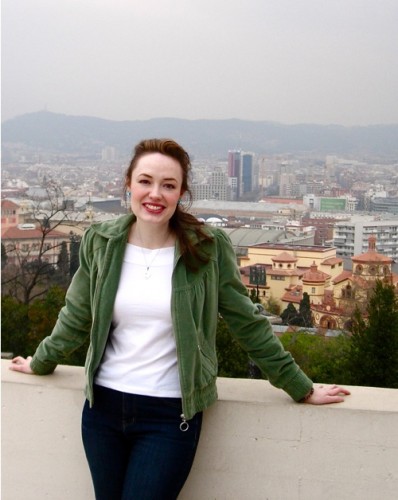 Barcelona is a city that I find more beautiful the closer I get to it. There's nothing particularly striking about its skyline when viewed from a plane or train. Even from Montjuïc, one of Barcelona's two mountains, the view is more impressive for what it captures of the Mediterranean than for what you can see of the city itself (see photo above). But once you start walking through its streets, Barcelona becomes so stunning that it's almost impossible to believe. Up close, Barcelona's charms are irresistible.
Part of the city's attraction is its unusual layout and architecture. For starters, once you've seen octagonal intersections, you wonder why anyone would plan them any other way. Then there's the work of extraordinary architects, such as Antoni Gaudí. His inspiring Sagrada Familia, psychedelic Park Güell, and various otherworldly visions are an essential part of what makes Barcelona so dramatic and unique.
Casa Calvet is considered the most conventional of Gaudí's buildings. Located in the Eixample district, it was built for a textile manufacturer in 1898. While the exterior is far more conventional than a typical Gaudí project, its interior is striking. Better yet, a restaurant (also called Casa Calvet) has been open on the premises since 1994, making fine use of the ground-floor rooms with their soaring, undulating ceilings. But this isn't a dining spot that gets by on its good looks. While the menu at Casa Calvet changes frequently, I was impressed by the duck-breast salad I had as a starter, and the main-course grilled hake (a salt-water fish that's similar to cod); both were already gluten-free and required no modification to make them safe for me. Almost everything was made from scratch on the premises (always a help when you need to identify every ingredient in a dish), except the rice cakes that were served to me in lieu of bread. Familiar with celiac disease and the gluten-free diet, the thoughtful restaurant staff made the evening extraordinary. I've learned not to expect anything less from Barcelona.
Casa Calvet [address] Carrer Casp 48, Barcelona, Spain [tel] 93-412-40-12 [web] www.casacalvet.es