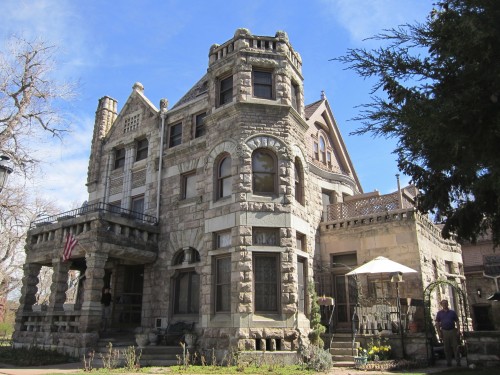 I can't believe my third novel, Evil in All Its Disguises, will be out in three weeks. I haven't even finished writing about all of the places I hit when I was on my book tour for my second novel, The Next One to Fall. Case in point: Denver, Colorado. I'd never visited the Mile-High City before, and I'm not sure what I was expecting, but what I found was a gluten-free mecca.
My stay in Denver was all too brief (when I'm touring, I often get only 24 to 48 hours in a city, sometimes less). But I was lucky enough to stay at the stunning Castle Marne Bed & Breakfast (pictured above), which gave me an incredibly warm welcome. Located in the historic Raymond House, a three-story stone mansion that dates back to 1889, the B&B is one of the prettiest places I've ever stayed. I'd told them in advance that I have celiac disease, and they assured me they'd have no trouble accommodating that. They weren't kidding — they offered me gluten-free snacks and, at breakfast, had gluten-free bread and blueberry muffins ready. The staff are incredibly kind and thoughtful.
I wish I could recommend Encore, the fabulous restaurant where I had dinner before my event at the Tattered Cover Bookstore, but it closed about a month after I visited Denver. Naked Pizza, just around the corner from Castle Marne, closed up shop as well. Fortunately, the Tattered Cover itself is still going strong, and that includes its excellent café, which offers gluten-free and vegan treats. Denver overall has an abundance of dining options for the gluten-intolerant. Some places that were recommended to me (and are still in operation!):
Denver also has several gluten-free bakeries, including:
Deby's Gluten-Free: a dedicated gluten-free, peanut-free, and shellfish-free kitchen that offers cooking classes as well as a long list of products (more than a dozen different breads, English muffins, pizza crusts, hotdog buns, cakes, pies, cookies). Deby's goods are carried by a number of restaurants and grocery stores in and around Denver (check out this list for more celiac-safe places to eat in the city)
The Gluten Escape: I love how the spot describes itself: "Our mission is to give people a place to find great food without unwanted ingredients! Welcome to choice, welcome to creativity, and welcome to a place where food differences are no big deal." The Gluten Escape is also soy-free, dairy-free, and vegan, and can accommodate other dietary restrictions.
Next time, I need to spend more time in Denver. I'll be back there on March 20th, reading from Evil in All Its Disguises at the Tattered Cover Highlands Ranch Bookstore at 7:30pm. If you're in the area, please stop by to say hello!
* Â  Â  Â  Â  Â * Â  Â  Â  Â  Â *
Evil in All Its Disguises will be published by Forge on March 5th, 2013 (it will be released as a hardcover, eBook, and audiobook that day). I'm giving away advance copies via my author newsletter; if you want to enter the draw, all you have to do is sign up. Book reviewers who are registered with NetGalley can download a copy right now. My second novel, The Next One to Fall, will be released in a paperback edition on February 12, 2012; there is a giveaway on GoodReads right now. Also, for a limited time, the eBook price of my award-winning debut novel, The Damage Done, is down to just $2.99. If you're a mystery reader, I hope you'll check out the series.