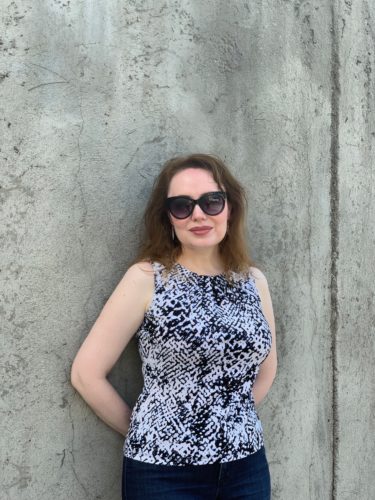 Before I went to Berlin for a week in August, a friend warned me that I wasn't going to like the food. When I asked him why, he described it as "beer, bread, and bratwurst" — which, I have to admit, did not sound appealing, especially to a person with celiac disease. I took his warning to heart and did even more research than I normally do before a trip. The result? I had a week of amazing meals, interspersed by visits to incredible museums, historic landmarks, and breathtaking gardens. Here's where I ate.
AC Hotel Humbolthain Park: This was my home base in Berlin, and I couldn't have asked for a better spot to stay. This recently-renovated hotel is located at the edge of a beautiful park, a stone's throw from Gesundbrunnen station (a major hub for public transit, making it easy to get just about anywhere in this sprawling city). Every morning, one of the thoughtful staff members would bring me a plate from the kitchen with a dark gluten-free bread and a chocolate muffin; there was also a gluten-free cereal from Udi's on offer. The breakfast buffet items had signs with numbers on them to indicate what allergens they contained (I wasn't familiar with this system, but I encountered it at several Berlin restaurants, so it appeared to be a popular approach to dealing with food allergies in these parts). I also had dinner here one night when a massive downpour hit the city. My appetizer was a simple green salad paired with parmesan; my main course was pork belly paired with beets and berries and it was incredibly good.
Buschbeck's: Located on a quiet street in Charlottenburg, this is a lovely restaurant run by a husband-and-wife team. Everything at Buschbeck's is homemade, and they take food allergies seriously. The menu changes daily and is written (in German only) on a large blackboard in the main dining room. Fortunately, one of the owners patiently explained all of the options in English, and she made it clear that almost everything that wasn't already gluten-free could be modified to be. I started with a simple beet salad paired up with Parmesan, and had an Argentine steak grilled to perfection with potatoes and veggies. I also had my favorite drink of the trip here, a kir cocktail. The restaurant doesn't take credit cards, but the prices are very reasonable. This was one of my favorite nights out in Berlin, and I highly recommend Buschbeck's — I felt like I was in really good hands here.
Suzette: This Breton creperie was recommended by a friend of a friend, and it's an absolute delight. It's located in the Prenzlauer Berg neighborhood, which I'm told was once a grim place in the shadow of the Berlin Wall, but is now an area filled with charming restaurants and boutiques. All of the main-course crepes are made from buckwheat (remember, buckwheat is related to rhubarb and is safe for celiacs; in spite of the name, it's not wheat!); the dessert crepes are made of flour, but the staff will make gluten-free ones on request. My main course was a crepe of goat cheese, bacon, and tomato… and I may have ended up splitting a second main course with my husband, a three-cheese crepe filled with roquefort, emmenthal, and goat cheese. They were both so delicious, and so was my dessert crepe with caramel and chocolate. (There are a few desserts that can't be made gluten-free — the ones they set aflame with pear brandy would burn to a crisp atop a buckwheat crepe! — but there are still many options.)
Simela: This pizza place has a couple of locations in Berlin; I ate at the one in Mitte, which has limited seating, but the food was very good. Practically everything on the menu is available gluten-free. The pizza itself was made with a buckwheat base (I noticed a few people online complain about the strong taste of the crust, but I liked it). There are plenty of vegetarian options, and a couple of dairy-free choices, but I went for a dose of cheese and prosciutto, and I loved it. I also had a hearty salad with olives and tomatoes and somehow had no room left for dessert, a decision I still regret.
Cookies Cream: Finding this restaurant is a nightmare: it doesn't have a proper street address, and locating it requires walking down three adjoining alleyways that look like great places to get murdered (remember, I'm a crime writer; I see killer possibilities everywhere). It's behind the Westin hotel on the Unter den Linden, but you need to enter from an alley off Behrenstrasse. Fortunately, the innovative food made the trip worth it: Cookies Cream is a glamorous vegetarian restaurant, with red banquette seating and stainless steel accents in a room that otherwise looks industrial. The menu is prix fixe, with your choice of three, four, or five courses. I went with four, starting with a soup of tomato tea and verbena, then a watermelon and artichoke carpaccio, a savory main course of baked eggplant and edamame, and a dessert blending cucumber and juniper (I know that doesn't sound like a dessert, but it was delicious). Most of the dishes were already gluten-free, and the ones that weren't were easily modified. Expensive but excellent.
Chay Viet: Berlin has a vibrant restaurant scene featuring cuisines from all corners of the globe. I'd seen this completely vegetarian Vietnamese restaurant mentioned as "gluten-free friendly" on a couple of sites, so I wanted to give it a try. The menu was marked with same allergy-warning system that my hotel used, but it turned out that it was out of date. Fortunately, the server spoke English and was able to guide me in ordering what was actually gluten-free; however, the kitchen's first attempt at my main dish contained gluten and had to be remade. Overall, the food I had here was excellent — delicious spring rolls, a simple-but-amazing clay-pot dish of sesame rice, a savory curry — but I feel some trepidation making a recommendation to visit. The staff was lovely and helpful, but the misleading menu and kitchen mix-up definitely made me anxious, even though it all worked out in the end.