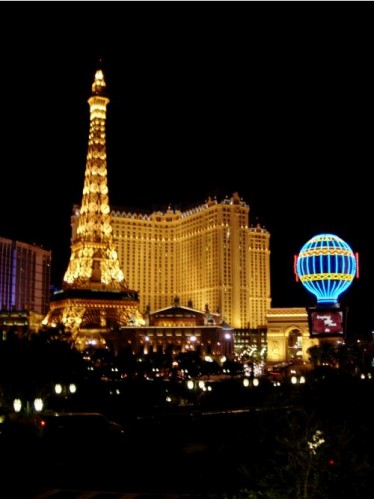 Las Vegas has been called many things, but I like to think of it as the world's biggest theme park. Where else could you visit a pyramid with a Sphinx in front, soar to the top of a scale version of the Eiffel Tower, and take a Venetian-style gondola ride in one afternoon? There are representations of New York City and Monaco, hints of Southeast Asian colonial style (at Mandalay Bay), and scenes of ancient Roman decadence (at Caesar's Palace, of course). But there's one great city that doesn't figure into the design of any of the resorts, and yet dominates Las Vegas's haute culinary scene: San Francisco.
Having visited the City by the Bay in the spring of 2008 — and discovering places such as Fish & Farm, Le Colonial, Millennium, and Regalito Rosticeria — I'd already experienced some great gluten-free cooking. But while I was aware that many Vegas restaurants are outposts of New York spots (including some that are known for their gluten-free-friendliness, such as Smith & Wollensky and Dos Caminos), I had no idea that San Francisco chefs had taken the city by storm.
One of the highlights of my visit to Vegas was dinner at Bradley Ogden's eponymous restaurant in Caesar's Palace. It sits on the edge of the casino, but it's a world apart. Caesar's Palace was one of my favorite gambling spots (not that I'm a high roller — slot machines like Gold Fish are more my speed). While the casino's got sweeping ceilings, over-the top decorations and plenty of distractions, it's also filled with smoke, noise, and bright lights (like every casino on the Strip).
The Bradley Ogden restaurant is an oasis of clean lines, neutral tones, and serene quiet. (Like all indoor Las Vegas restaurants, it is smoke-free.) From the start, the incredibly charming server, Alexis, made it clear that I could have most of the items on the menu, since everything is made from scratch on-site and the kitchen would be happy to make whatever modifications necessary for a gluten-free meal. I ended up ordering from the prix fixe menu, which offered three courses for $59. I had a Caesar salad to start, followed by pork loin for my main dish and ice cream for dessert. The food was simply incredible, and the service was sublime.
What really amazed me was that the thoughtfulness didn't end with that night. Before I ordered, I talked with the server about why I often can't get a gluten-free Caesar salad (it's not just an issue of holding the croutons; many chefs use a Worcestershire sauce that contains wheat in the dressing). When I filled in the comment card at the end of the evening, I mentioned how much I enjoyed the meal and the attentive service. The next day, I received an e-mail from the restaurant, giving me their recipe for a perfect Caesar salad. Now that's what I call service.
Bradley Ogden at Caesar's Palace [address] 3570 Las Vegas Blvd. South, Las Vegas NV 89109 [tel] 877-346-4642 [web] www.caesarspalace.com or www.chefbradleyogden.com.