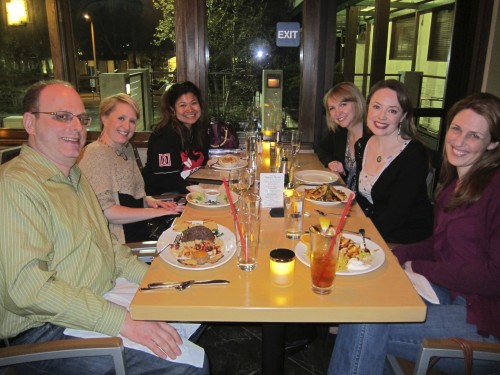 My second mystery novel, The Next One to Fall, came out on Valentine's Day, and I've been on the road for my book tour almost constantly since then. That's good news, because I've been visiting terrific bookstores, meeting wonderful people, and discovering some great restaurants with gluten-free menus. But I've been editing my third novel at the same time, so I've had little time to report back (yet) on what I've found.
Yesterday, I spoke at Mysteries to Die For in Thousand Oaks, California, which I highly recommend checking out if you're in the area. Afterwards, my friend Anissa suggested a place called Hugo's Restaurant for dinner. Hugo's has been around for some time in Studio City and West Hollywood, but its location in Agoura just opened.
The menu at Hugo's is overwhelming because there are so many gluten-free options. Many choices are naturally gluten-free, while some require modification. The kitchen is well aware of cross-contamination issues and isolates products that contain gluten from those that don't (they have a similar policy regarding animal products, since many of Hugo's offerings are vegan or vegetarian).
I had a Caesar salad and a tortilla-encrusted chicken breast with a black-bean salsa (all of it delicious). The menu made me wish I could stay longer. The gluten-free options start with breakfast items — such as pineapple-coconut pancakes — and include sandwiches, salads, soups, and a wide variety of Mexican- and Indian-inspired main courses.
Reading at a terrific store like Mysteries to Die For, followed by dinner with friends at a great restaurant? It doesn't get better than this. Next stop: Sacramento for the Left Coast Crime conference, then an event at Book Passage in San Francisco on April 2nd and with Mystery Readers International in Berkeley on April 3rd!